Description
Details

DIYPC Zondda-O Black USB 3.0 ATX Mid Tower Gaming Computer Case with 3 x Orange Fans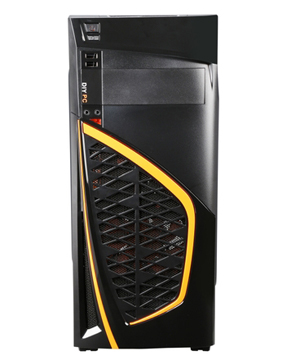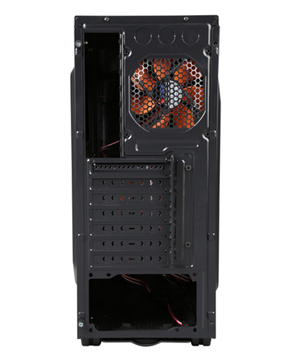 The DIYPC Zondda-O case is a practical yet flashy computer case, perfect for DIY enthusiasts or computer geeks. It offers features that DIY builders value the most at a good price point, including roomy internal space, impressive cooling capacity, advanced bottom-mounted PSU design, cable management design and more. The highly energetic orange/black design makes a bold statement anywhere you place the case. The built-in LED orange fans emit very bright orange light for an attractive inner look. The large transparent side panel window allows you to clearly see the guts of the PC. Take one home today and build yourself the "coolest" rig around.
Great Cooling Performance
With up to three built-in LED orange fans, the DIYPC Zondda-O case creates heavy duty airflow to cool down even the most extreme system. Two 120mm LED fans are pre-installed respectively on the front and side panels. One 120mm regular fan is cleverly mounted on the rear panel.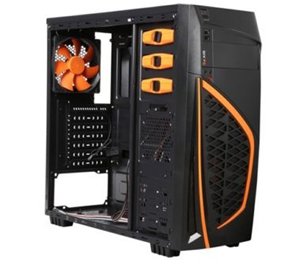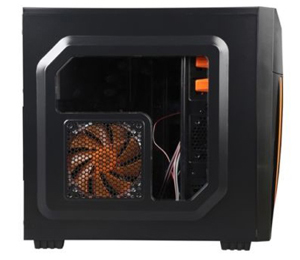 Maximum Compatibility with PC Components
In addition to support for a Micro ATX or ATX motherboard, the DIYPC Zondda-O case can accommodate graphics card of up to 420 mm in length, and CPU cooler of up to 158 mm in height. Up to seven PCI slots provide flexibility for multiple graphics cards solutions.
Superb Expandability
The DIYPC Zondda-O case offers one external 5.25" drive bay, four internal 3.5" HDD drive bays, and two internal 2.5"HDD drive bays. This feature gives you an easy solution to upgrade your computer's performance and expand its storage space. The screw-less design makes swapping drives a snap.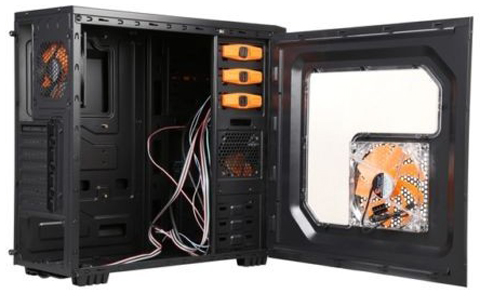 Gorgeous Design with Black-Orange Color
The unique, sophisticated front panel with highly energetic orange/black design provides an out of the ordinary look that will look great anywhere. The orange LED fans illuminate the whole system and create a stunning atmosphere. Through the oversized transparent side panel window, onlookers can see the entire build unrestricted.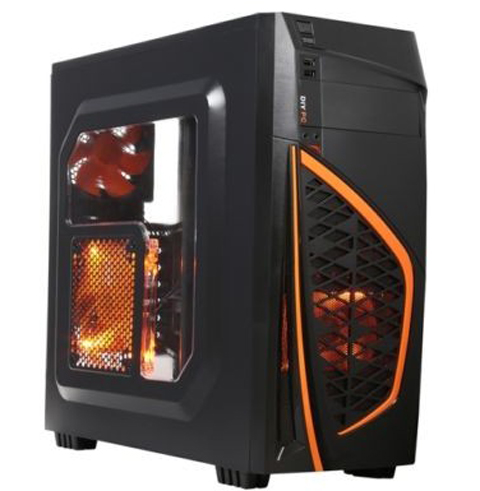 Extra Clever Features
The front panel I/O panel offers one SuperSpeed USB3.0 ports for blazing-fast data transfer speeds, two USB 2.0 port and two audio jacks.
The advanced bottom-mounted PSU design enables independent and optimized PSU cooling.
The cable management design helps manage cables in your chassis to create neat inner look and enhanced, smooth airflow.
The front panel dust-proof mesh design keeps your computer clean and protected from dust.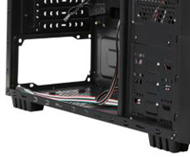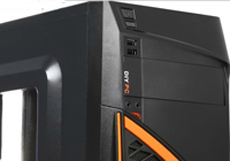 Specifications
Learn more about the
DIYPC Zondda-O