Description
Details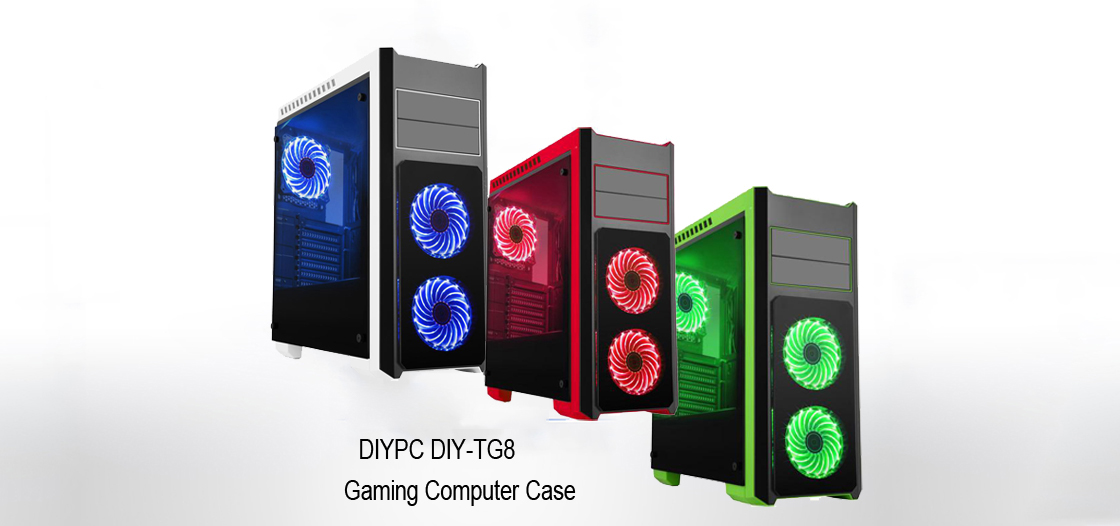 The DIYPC DIY-TG8 ATX Mid Tower Gaming Computer Case combines stately aesthetics with functional design, great for hard-core gamers and DIY enthusiasts.
Generous Interior Space for PC Components
With roomy interior space, the mid-tower gaming computer case gives you great flexibility to build your system. In addition to support for a Micro ATX, ATX or ITX motherboard, the DIYPC DIY-TG8 can accommodate graphics card of up to 400mm in length, and CPU cooler of up to 163mm in height.
Superb Expandability
The DIYPC DIY-TG8 offers two internal 3.5" drive bays and three internal 2.5" drive bays to hold your storage drives. It's also furnished with two 5.25" external drive bays. Up to seven PCI slots provide flexibility for multiple graphics cards solutions.
Outstanding Cooling Solution
With the ability to support up to five fans (three fans preinstalled), the DIYPC DIY-TG8 creates heavy duty airflow to cool down, even the most extreme system.
Rear: 1 x 120mm LED Light Fan (Pre-Installed)
Front: 2 x 120mm LED Light Fans (Pre-Installed)
Top: 2 x 120mm Fan (Optional)
The DIYPC DIY-TG8 is water cooling ready, so you can choose to cool down your hottest components - the GPU and CPU, with water coolers (sold separately). Its front panel can fit up to 280mm water cooling radiator.
Aesthetic Design
The pre-installed LED light fans not only produce voluminous airflow but also create eye-catching, dynamic lighting effect, making your gaming rig shine and enhancing the overall appearance of your system.
See-through, Rugged Exterior Design
Four see-through tempered glass panels (front, top, left and right) provide wide angle for optimized visualization while the system is running. Every onlooker can see the full gut of the system. Measuring 4mm in thickness, the tempered glass panels are durable and rugged, offering superior protection for your components.
Thoughtful Designs
The top mounted I/O panel offers dual USB 3.0 ports for blazing-fast data transfer speeds, two USB 2.0 ports, and HD audio in/out jacks.
The advanced bottom-mounted PSU design enables independent and optimized PSU cooling.
The cable management design helps manage cables in your chassis to create a neat inner look and promote enhanced, smooth airflow.
The dust filter at the bottom keeps your computer clean and protected from dust.
Specifications
Learn more about the
DIYPC DIY-TG8-BW