Description
Details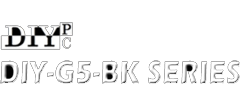 Tempered glass panels (front, left and right) x 3mm thickness not only offers great protection, but also provides 270 degree wide angle for optimized visualization while the system is running
Front & top panel with special bionic and hollow honeycomb patent design
Both full clear tempered glass side window
Top and front panel pre-installed 7 different color changeable RGB LED Strip (9 modes control) enhances dynamic visual gaming effects
Support ATX / Micro- ATX Motherboards
Advanced cable management design - 30mm
HDD Installation:
Take out the bracket
Align the holes of the hard disk with the ones of the bracket
Fix it with screws
Push the bracket into the chassis
2.Put SSD into the bottle gourd holes on the bracket and slightly to nudgestuck.
1.Align 3 silver white step screws at the bottom of the hard disk.
3.Fix SSD with the washer screw on the side.
Top mounted I/O ports - USB 3.0 for up-to-date high speed data transfer
Great Cooling Performance
2×120mm fan on top (Optional)
VGA stand-can support 1080 long VGA card
120mm 15lights LED fan at the
rear(Pre-installed)
2×120mm fan at the front (Optional)
Dust filter at bottom - easy clean
Specifications
Learn more about the
DIYPC DIY-G5-BK